Every spring my thoughts turn to the beautiful garden I'm going to have and the bountiful harvest. How I'm going to save lots of money by growing and canning my own vegetables. But then reality hits and I realize that I'm not prepared to tackle it all.
You've probably had the same intentions. But then what happens? Either you do get the big garden planted, but then are soon overwhelmed with the amount of work or you don't get to it soon enough in the spring and it's too late to get your garden going.
I'm going to offer some practical advice for the novice gardener (so, if every year you have a big beautiful garden, you can skip this post =)).
First thing you need to decide is what type of garden are you going to have. There's everything from container gardens to the old fashioned garden plots that you remember grandma planting. You need to pick the option that is going to work for you. Don't have a lot of space? Than a few containers on the patio may be the best bet for you. Have a bit more space, but don't want to be overwhelmed? Maybe try raised beds using the square foot gardening method.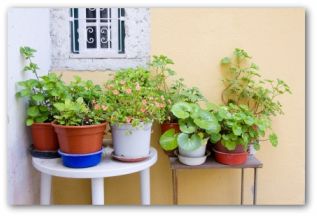 Container Garden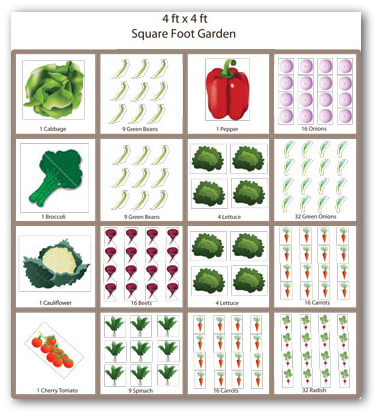 Plan for a 4x4 square garden
Secondly, be realistic about what you want to get out of the garden. Only want fresh vegetables during the growing season? Then plan for a smaller garden with only one or two plants of each vegetable. Want to be able to can and preserve vegetables for the winter? Than you're going to need a bigger garden. But, make sure you also have the time and ambition to actually preserve the vegetables when the time comes (and, this goes in with the when to plant, but do you want to be canning tomatoes in the middle of August?)
Third, what kind of soil do you have? For container gardens it's pretty easy- just pick up a bag of potting soil =) For raised beds you're going to want to make sure that your soil has the nutrients the plants will need. This might mean having to enrich your soil with compost and fertilizer. Make sure that what ever method you choose that your soil is well worked and relatively weed free. A bit of prep work before the plants go in makes a world of difference during the growing season.
Fourth, you need to decide what you want to plant. Pick things you know your family will eat. Let the kids pick a new vegetable they want to try. Don't plant vegetables you know you won't eat.
Then you need to do some back planning. Every packet of seeds will tell you how long the plants take to mature. Look up the last frost date in your area. Here in TX, I can start planting outside a lot sooner than someone in MN. Figure out when you need to get the plants started to harvest before the first frost in the fall.
A friend sent me to
SproutRobot
and it has a lot of information on when you're suppose to start your plants inside and when to transplant... Sounds like Gardening for Dummies- written just for me =)
Or, if you don't want to start your plants from seeds, visit your local garden nursery and pick up some plants ready for planting in your garden.
Lastly, be realistic about what you can handle. If you're welcoming a new baby this year, maybe a couple containers on the patio are going to be best. If you have older kids who really want to help, then a larger garden is possible- especially if you can convince them to do the weeding ;)
I have to confess... I really don't have a green thumb. Most years I start with good intentions, but end up with pathetic looking plants. This year I'm determined to do things differently. Over the next few weeks, I'm going to start working on my raised beds- enriching the soil and getting them cleaned up. I'll be planting seeds indoors and transplanting when ready. AND! I vow to keep the beds weeded and fertilized =)
So hopefully instead of my garden looking like this:
What are your favorite herbs and vegetables to plant in your garden?